CPP/FPC Certification & Study Group
Information on the next CPP/FPC Study Group coming soon
Payroll professionals can distinguish themselves from their colleagues through payroll certification. The prestigious Fundamental Payroll Certification (FPC) or Certified Payroll Professional (CPP) credential allows you to:
Demonstrate credibility
Secure promotions
Improve employability
Enhance professional standing
Whether you're a seasoned payroll professional or new to the profession, certification shows that you have the knowledge, skill, and ability to do your job and do it well.
Make the commitment to get certified this year!
Visit http://www.americanpayroll.org/certification/ for more information on the FPC and CPP exams and exam preparation.
Certification
APA certification is a valuable, objective credential that verifies a specified level of knowledge, skills, and abilities in the payroll profession. Certification helps individuals demonstrate their payroll expertise, secure promotions, advance their careers, and enhance their standing within the profession.
APA offers two levels of certification — the Fundamental Payroll Certification (FPC) and the Certified Payroll Professional (CPP). The exams are administered at more than 300 locations throughout the United States and Canada.
It is the responsibility of each examination candidate to download and read the applicable FPC or CPP Examination Candidate Handbook. Exceptions will not be made for candidates that do not read the handbook.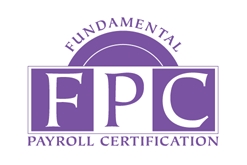 Fundamental Payroll Certification:
The FPC is a certification credential for payroll beginners and service and support professionals with payroll knowledge. There are no payroll experience requirements to take this exam.



Certified Payroll Professional:
The CPP is a certification credential for those with payroll knowledge and experience.
Here's a link to the certification page of the American Payroll Association, which provides details on the certification programs. There is also a free, on-demand webinar available.
http://www.americanpayroll.org/certification/
On Demand Free Webinar – Prepare yourself for the CPP and FPC Exams. View this webinar at your convenience! Get the latest information and tips for preparing yourself to take these exams.
After clicking on the webinar link below. Prepare yourself for the CPP and FPC Exams